NOTE: Valrhona, Lindt, El Rey, Marabou are name brands of some excellent quality chocolates to eat straight or use in cooking. Droste brand makes a virtually perfect baking cocao. There are other excellent brands so let your tounge explore! Try Weldel from Poland!!! Excellent to cook with and to eat!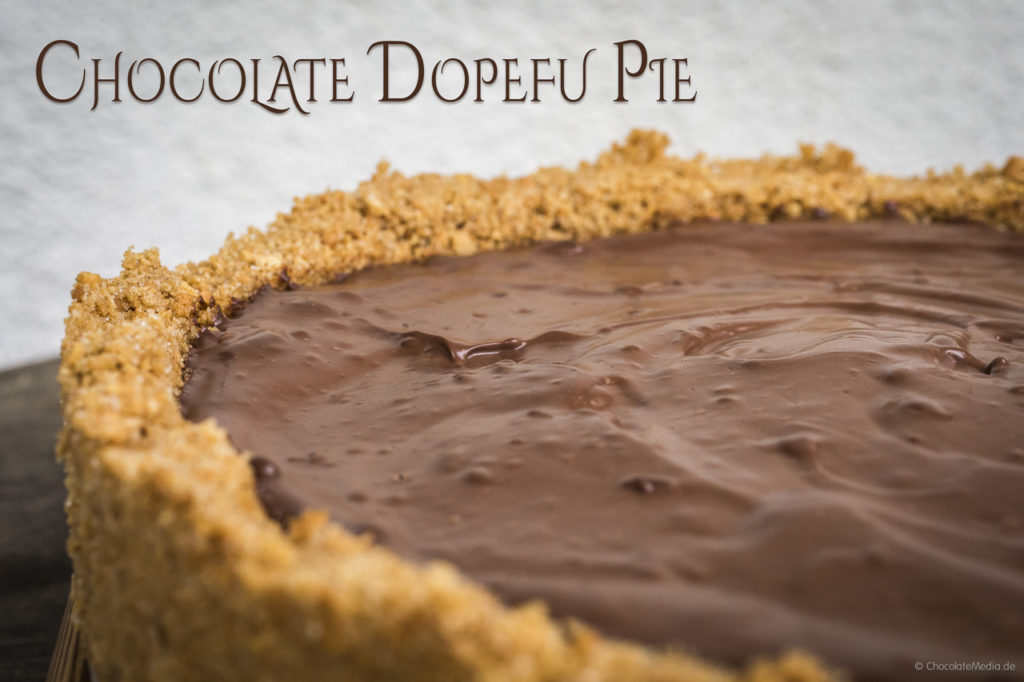 Chocolate Dopefu Pie Recipe
1 Graham Cracker Crust
13-16 oz of the finest chocolate you can find!I recommend the darkest Valrohona Chocolate you can legally obtain. (Amateurs may use a package of Ghirardelli Semi-Sweet Chocolate Chips)
2 packages Silken Firm Tofu (approx 8 oz each)
A. Whip tofu till creamy and fluffy.
B. In a double boiler, melt the chocolate chips slowly, till the are creamy and
shinny – take care not to over heat making surface granular.
C. Slowly blend melted chocolate in whipped tofu
D. Pour mixture into crust
E. Chill for 4-8 hours
F. Serve at room temperature with fresh whip cream and love
Chocolate Love Pudding
2 cups Milk
2 tbs Butter
6 oz Unsweetened chocolate (2 quality Dark Chocolate Bars)
1/3 cup Sugar
1/3 cup Flour
1/4 tps Salt
2 Egg yolks – beaten
1/2 tps Vanilla
Whipped cream (optional)
1. In double boiler over hot, not boiling water, heat milk and butter
2. add chocolate slowly to heated milk until the chocolate melts.
3. Combine sugar, flour and salt.
4. Sprinkle over chocolate – DO NOT STIR.
5. Cover and cook on medium-low for 20 minutes.
6. Beat with a spoon until smooth.
7. Quickly add egg yolks and beat well.
8. Cook another 2 minutes.
9. Remove from heat and stir in vanilla.
10. Serve hot or chilled with whipped cream.
Kathleen's Chocolate Cake
3/4 cup butter
1 3/4 cups sugar
2 eggs
1 teaspoon vanilla
2 cups flour
3/4 cup cocoa
1 1/4 teaspoons baking soda
1/2 teaspoon salt
1 1/3 cups water• Cream butter and sugar until light and fluffy. Add eggs and vanilla; beat 1 minute at medium speed.
• Combine flour, cocoa, baking soda and salt; add alternately with water to creamed mixture.
• Pour batter into 2 greased and floured cake pans. For 8" pans bake at 350 degrees for 35-40 minutes. For 9" pan bake at 350 degrees for 30-35 minutes.
• Cool 10 minutes, and then remove from pans.
Cocoa Frosting
6 tablespoons butter, softened
3/4 cups cocoa
2 2/3 cups confectioner's sugar
1/3 cup milk
1 teaspoon vanilla
• Cream butter in small mixing bowl.
• Add cocoa and confectioner's sugar alternately with milk; beat to spreading consistency. An additional tablespoon of milk may be necessary.
• Blend in vanilla.