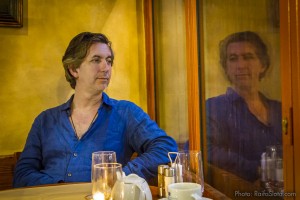 Russ Smith is a talented individual who has had the opportunity to delve into a variety of fields. He is a poet, musician, computer scientist, medical researcher, graphic designer, sound engineer, record producer, multimedia producer, and much more. Each of these roles he performs with great interest and skill. Independent at the age of 15, Russ attended the High School for the Health Professions in Dallas, TX, where he studied the foundations of medical science such as patient care, medical technology, anatomy/physiology, pathology and more. He went on to continue medical research at UT Southwestern Medical School/Parkland Hospital.With this solid background, Russ was offered a Primary Healthcare Internship with the Ministry of Health in Jamaica, West Indies. Following this, he proceeded to do research in the medical field with such renowned doctors as Dr. William Shive and Cellular Biology research Dr. Steven Myer. Under full scholarship, Russ went on to complete an Bachelors degree in Zoology with an emphasis in Molecular Biology and Neuro-Physiology with a minor emphasis in Computer Music at the University of Texas at Austin. His final year was devoted to studying the links between neurotransmitter physiology and acupuncture.

After volunteering as a children's counselor at the Center for Battered Women focusing on Art Therapy, Russ served for over 3 years in an appointed position as Arts Commissioner for the City of Austin, Texas. He also served on the Arts in Public Places Board for the City of Austin. Some of the more interesting projects that Russ has worked on include media design for Sister Helen Prejean's Moratorium Campaign in 2001, he provided production support for Tom Jones and INXS in Willie Nelson's studio for Interscope Records, he composed pieces for the soundtrack for the cult classic Return of the Texas Chainsaw Massacre and he appeared in a small part in the Richard Linklater film, The Newton Boys, with Matthew McConaughey, Ethan Hawke, Julianna Margulies, Dwight Yoakam. He also appeared in a couple Bollywood films with stars like Aishwarya Rai and Kal Penn.

Since 1993, Russ has been executive producer of his own company, Chocolate Media through which he has lent his artistic talents to several high profile projects such as Lance Armstrong's EPK (Blue Plate Design) and producing/directing David Garza's EPK (Atlantic Records) in addition to producing multimedia for various artists and the corporate world. In that same year, Russ began Chocolate Records, a company that supports international and local independent artists and has produced 16 CD's on its label to date. In addition to producing CD's, Chocolate Records also promotes and distributes various artists worldwide.

Russ is widely traveled and has documented and recorded traditional and ceremonial folk music in rural areas of China, Borneo, Sumatra, Java, Bali, Hong Kong, Peru, and India. In addition to several other projects, he is currently working on a documentary on Hasta Mudras with Anuradha Naimpally, tracing the usage of these hand symbols through performing and healing arts. Russ is currently based in Berlin, Germany where he writes poetry, studies yoga, bakes chocolate delicacies and works on many fascinating Film and Music projects. Recently working on films private clients and for the J7 & G20 Summit sponsored by the Bundeskanzleramt in Germany.

His latest work of production, editing, and soundtrack composing can be seen and heard in the award winning documentary Queer Lives Matter.